Teklemariam Bekit BBC Tigrinya, Nairobi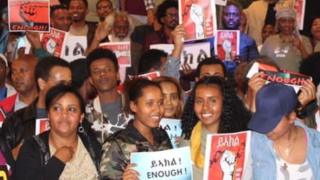 Thousands of Eritreans are waging a social media campaign – modelled in part along the lines of the viral ice bucket challenge – to force change in the one-party state.
They hope that the overthrow of neighbouring Sudan's long-serving ruler Omar al-Bashir will give impetus to their efforts to oust President Isaias Afwerki.
The campaign – under the hashtag #Enough in Tigrinya, Arabic and other Eritrean languages – has been driven by young Eritreans living mostly in Europe and the US because of repression in their home country.
It has won the support of a cross range of people – from veterans of the struggle for independence to music stars like Robel Michel and Yohannes Tikabo, popularly known as Wedi Tikabo.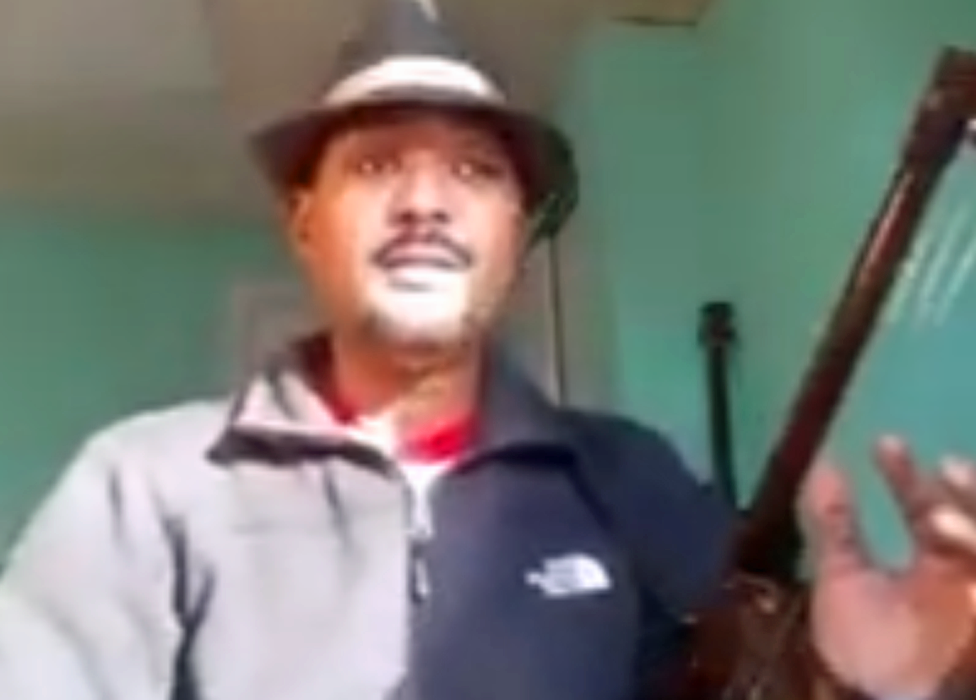 Wedi Tikabo
Enough to division, migration and horrendous journeys. Enough to putting people without due process in dungeons. Enough to living without a constitution"
In a video in Tigrinya, Eritrea's main language, Tikabo, who fled his homeland in 2013, says: "Enough to division, migration and horrendous journeys.
"Enough to the political upheaval overshadowing our country. Enough to putting people without due process in dungeons. Enough to living without a constitution."
'We must stop hiding'
Washington DC resident Amanuel Dawa was among those who started the campaign, challenging people to break their fear by identifying themselves and speaking out against Africa's only one-party state.
Mr Isaias took power at independence in 1993, and the country has never held a national election – not even a sham poll like those seen in some other authoritarian states where the ruler is returned to power with nearly 100% of the vote.
Instead, the government has banned opposition parties and the private media, jailed critics (some of whom have never been heard of for years), and has enforced military conscription. This has forced tens of thousands of Eritreans to flee to Europe, but many perish during the treacherous journey through the Sahara desert and over the Mediterranean.
Some people have recalled on Twitter their time at the notorious Sawa military camp, where young people and high school students are sent to begin their military service, which can last indefinitely:
"I started this initiative because I needed to know how long we would keep hiding our identities in this fight. The main agenda was to make ourselves visible and convey our message to the people of Eritrea as well as to the government," Mr Amanuel told BBC Tigrinya.
The leader of the youth wing of the ruling party in the UK, Sirak Bahlibi, has described it as probably the "worst smear campaign to be ever waged on social media", while the pro-government TesfaNews website has accused the Tigray People's Liberation Front (TPLF) rebel group of being behind the #Enough campaign – a charge denied by Mr Amanuel.
"Eritreans inside and abroad should not buy or believe the recent propaganda that is spreading…. The TPLF is doing anything and everything to destabilise Eritrea," TesfaNews wrote.
'Bravely distributing leaflets'
The campaign on Facebook and Twitter has stood out for its ice bucket challenge format, with people nominating friends – and celebrities like Tikabo – to speak out against repression in Eritrea.